Now you can download Microsoft Office for Mac 2011 and  install free 30-day full trial version and get to learn and enjoy the cool features that Microsoft Office can offer to Mac computers.
A trial version lets you evaluate Office for Mac 2011 for a 30-day period at no cost. To access the trial, fill up the trial form, download the full Office for Mac 2011 software free and then activate online. Install the Office for Mac 2011 trial, and then on the first screen of the Microsoft Office Setup Assistant, click Try free for 30 days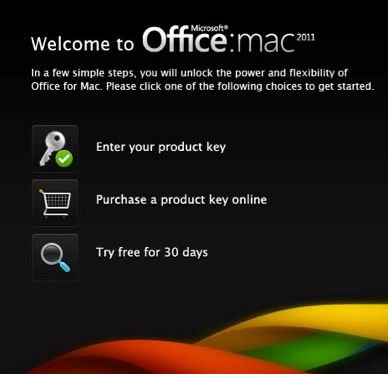 You can download Office for Mac 2011 trial on as many computers as you want. However, the Office for Mac 2011 trial can be activated only once per computer.
Office for Mac 2011 trial is equivalent in functionality to Office for Mac Home and Business 2011 which includes all the functionality of Office Home and Student, plus Microsoft Outlook. You do not have to download the trial if you already have Office for Mac 2011 installed.
If you like to continue after 30 days – you can purchase an Office for Mac 2011 product key online or from your retailer. You can also buy the full Mac Office software from Amazon.
Read more tips about Microsoft