Best Buy has again taken the lead for a new BlackBerry PlayBook sale, dropping prices by $150 on the 64GB model! After the HP Touchpad sale, it seems tablets are not selling as expected and stock inventories are rising, while Apple iPad stays the favorite.
BlackBerry PlayBook Sale
Best Buy Prices reveal that BlackBerry PlayBook 16GB sells for $449 ($50 discount) while 64GB tablet sells for $549 ($150 discount)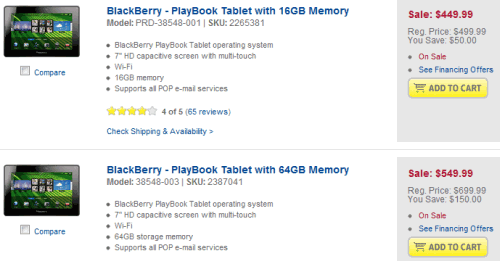 Of course this is over 20% off, but still does not compare to the $99 HP Touchpad sales. Blackberry Playbook on Amazon is still selling for the usual high prices.
Compare that to the Apple iPad which sells the 64GB model for $699 or the 32GB for $599, and you now both the Blackberry Playbook models are $150 cheaper than iPad! Will you buy the BlackBerry PlayBook at this price?
See the official Playbook intro video

See a comparison of iPad 2 and Blackberry Playbook here



Read more tips about
Start a discussion. Share your view: Post a Comment on Twitter