Have you seen your WolframAlpha Personal Analytics Facebook Report? Wolfram claims to be the world's only computational knowledge engine, and will provide free Facebook reports with unique insights into your Facebook friends and their activities in your social network.
It will help you answer many questions you always wanted to ask about your social network and did not know how to analyze the data  – now Wolfram can do this for you. Be sure to grab your report right away.
How to Get Wolfram Facebook Report
1. Visit the WolframAlpha Facebook page and click the button Get the Report.
2. Wolfram would then seek your permission to allow access.
3. Then  WolframAlpha will ask you to create a  Wolfram ID (same as your email). All data is prefilled – you only need to add a password.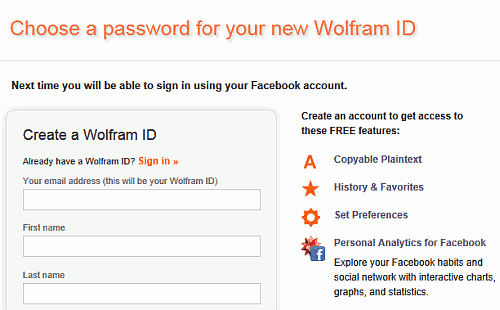 4. Now Wolfram is ready to analyze your Facebook data and generate your Facebook Personal Analytics report.
5. Then Wolfram will load Facebook data and then present your report.
Now enjoy your report. There is indeed a wealth of Facebook data out there which is presented in ways that probably you would never be able to analyze using any other analytics tool. You will particularly enjoy your Friends cluster maps.  Note you can clip and share any part of the report with your Facebook friends and also generate a permanent sharable page for your Facebook analytics data.
Get your Wolfram Facebook Personal analytics report first and amaze your friends. Share this now.