The Apple Tablet is here and its officially called the Apple iPad. Steve Jobs is demoing the new Apple iPad right now live and you can follow the Engadget live blog to get all the updates as they come through.
Apple iPad Tablet
"SO all of us use laptops and smartphones… the question has arisen; is there room for something in the middle. We've wondered for years as well — in order to create that category, they have to be far better at doing some key tasks… better than the laptop, better than the smartphone"

"What kind of tasks? Browsing the web. Doing email. Enjoying and sharing pics. Watching videos. Enjoying music. Playing games. Reading ebooks. If there's gonna be a third category, it has to be better at these tasks — otherwise it has no reason for being."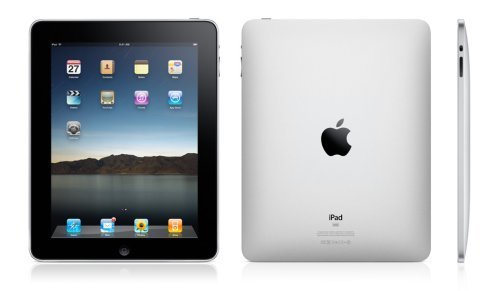 Powered with an amazing 10 hours of battery life, the Apple iPad has a full capacitive multitouch, and is available with 16-64GB flash storage. The Apple iPad is .5 inches thin, weighs 1.5 pounds and has a 9.7 inch IPS display with a built in iTunes store. More details are coming live on apple.com/ipad.
What is the iPad price? Starting at $499 for wi-fi model (16GB).