Want to  watch Youtube Hindi Movies online? Now watch Bollywood movies online on Youtube legally. If you visit the Youtube movies section, there is  dedicated Bollywood movies section there now. Youtube has lined up an amazing collection of your favorite movies and the latest collection is worth a watch.
Free Bollywood Hindi Movies on Youtube
When this article was written in 2010,  they had uploaded many new and old Bollywood movies there, and more desi hindi movies were being constantly updated. Here is screenshot of some free bollywood movies you could watch online then. Well it was not expected to see all the latest bollywood movies online there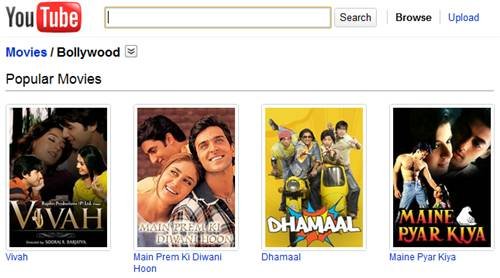 Some people might enjoy the hindi comedy of Dhamaal, or view one of my favorite hindi movies Bawarchi or enjoy the old super hit black and white comedy hindi movie Half-Ticket.
Watch Youtube Hindi Movies
But now, just as you need to pay to enjoy Hindi movies on other digital platforms like Hotstar, Eros Now, Apple TV, or Airtel Movies etc, similarly Youtube has also gone the paid route. Now you can watch the entire range of Bollywood Hindi Movies, but the cost varies from Rs 50-Rs 150. Again the newest Hindi movies in cinema halls are not to be expected.
So watch Youtube Hindi Movies or you can also watch latest Full HD Hindi movies on Youtube Box Office and enjoy.