Did you know you can charge your new Chromebook 11 with a mobile phone charger. This is super as you do not need to carry a separate bulky laptop charger. It also means you can use any charger with the Micro USB, which is a standard attachment in car chargers, and wall plug points too.
Charge Laptop with Mobile Charger!
The fact that you can use any certified micro-USB charger (as supplied for tablets /smartphones) – opens up a whole range of portable mobile battery charge banks which can also charge this Chromebook as they are rapidly emerging as popular mobile charging alternatives.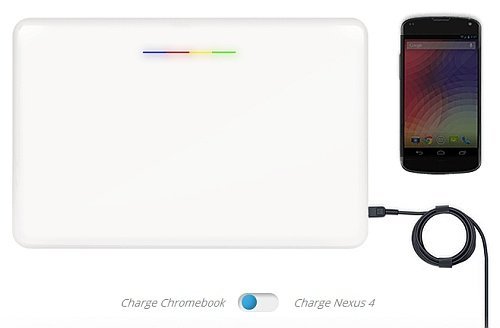 Not to forget charging in aircraft's also becomes simpler and your charge will last across a 16 hours flight!
Ultimate Portability
I had brought a HP Chromebook recently and showed your Chromebook unboxing pics. The Chromebook has replaced all gadgets as my primary blogging tool. I opted for a larger 14 inches screen as it was easier for blogging and other media editing activities. But this HP Chromebook 11 beats other 11 inches chromebooks due to this additional portability feature.
Chromebooks offers several advantages like the instant start up and shut down, no viruses, no lag, and a wholesome online experience. The Chromebook 11 claims a 6 hours battery life which is a little lower than other Chromebooks, but the ability to charge anywhere is an acceptable compromise for a lower battery life.
It is powered by Exynos 5 Dual (5250) Application Processor, has 2GB DDR3 RAM, 16GB solid state drive and has all the Chromebook goodness. The Chromebook stores do not sell it in India yet, but is expected soon.