I recently reached the 1000 daily visitor milestone on my gaming blog. The journey was not the smoothest and there were many ups and downs. But along the way I learned many things – a couple of which surprised me.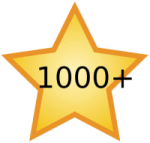 Of course, my experience of growing my site will be different from yours. I'm a different person from you and I probably operate in a different niche but I think there are things you can learn and apply from my experience.
With that in mind, here are 7 surprising things I learned on my way to reaching 1K daily visitors.
1. You don't need a lot of content
Many bloggers believe they need a lot of content to generate a good amount of traffic. This myth seems to be true because the biggest sites usually publish many articles each day.
I thought I would have to post at least 3 times a week to reach the traffic milestone. But I've only written 174 posts in two years. This comes out to only 1.67 posts per week.
Sure, it's a good idea to post often, but if you're strategic with your marketing, content topics, and keywords, you can generate a lot of traffic from just a few posts.
2. Plans are helpful but they will change
In every journey, there are going to be surprises. My current blogging strategy is very different from the initial plan and vision I had for my blog. That plan gave me direction and motivation in the beginning but as I tried different things, I had to change my tactics.
Through trial and error, I was able to see which tactics worked well and which ones didn't. As I focused more and more on the things that worked and dropped the things that didn't, my traffic grew.
My advice is to try a variety of techniques on your site. Then, cut out the ineffective activities and focus on the ones that bring a good return.
3. You don't have to be good at many things
There are so many ways to create content and generate traffic. Just looking at all the internet marketing advice on the internet, you may think you need to learn a lot about many different things or else your blog won't grow. This hasn't been my experience.
I'm only actually good at a few things. I'm not very active on Twitter. I've only done a few guest posts. My Facebook page is not active. I haven't left many comments on other blogs. I don't submit articles to article directories. And I don't have connections with other bloggers in my niche.
I basically only have one marketing strategy. I optimize my content for the search engines through in-depth keyword research. I used to participate in a popular forum but I haven't done that in two months.
Being good at a few things is better than overextending yourself and being mediocre at many things.
4. Most webmasters don't know SEO
I'm sure in other niches the general SEO knowledge of the webmasters is pretty good, but I'm willing to bet that there are many industries where the vast majority of the webmasters don't know SEO.
Much of my success is due to the lack of competition on the search engine results pages (SERPs) for high traffic keywords. Most of my competitors simply lack the SEO knowledge to compete on the SERPs. They may spend more time and money on their site than me but I outrank them because I apply basic SEO fundamentals.
For example, there is a site authored by a well-known personality in my niche. But his site has the same title tag on every page. As such, he doesn't rank very well on the search engines.
I've found that most webmasters don't do keyword research or actively build links so you can gain a big advantage by becoming familiar with SEO.
5. Off topic links help if you follow certain rules
I haven't been able to do much link building since I was busy with work and link building is time consuming. Still, I know that inbound links can be very effective, so I asked a couple friends to link to my site. With my staff blogger background I had a built a few friendships with webmasters that own quality sites. However, their site were unrelated to mine.
I didn't think the off topic links would help that much but they boosted my rankings a great deal.
Now I wouldn't overdo this strategy. I made sure I also had a good percentage of relevant links. Fortunately, I earned many links without asking from bloggers in my niche who liked my content. Also, you should only build off topic links from quality sites.
6. People appreciate longer posts
My longer posts (750+ words) have been my most commented, linked to, and most trafficked content. I think this is because most web content is short so longer content stands out. Plus, I think you're perceived as an expert and authority if you write longer, meatier content than the norm.
I'm not talking about being wordy just to reach a certain word count like a college student writing a term paper. Instead, my advice is to pick a topic broad enough that it takes you over 750 words to explain.
7. Many of my visitors are beginners in the niche
This reality was surprising to me because my content was initially geared for advanced readers. I wrote for them but I attracted a lot of beginners. These beginners would leave many basic questions in the comments.
Therefore, I started writing more posts on the beginner level. This tactic helped me gain a lot of new readers. It was tough at first because I had to remember what it was like to be a beginner. But once I recalled the early stages, I was able to explain fundamental concepts clearly.
If you know a lot about your niche it may be difficult to write for newbies, but they are the most numerous group in any niche. If you cater to them, you can reap big traffic gains.
This is a guest post by Dee Barizo at magicgameplan.com. His goal for this site is to reach 1000 daily visitors within a couple of months and learn more surprising things in the process. You can also submit guest posts and share your blogging tips.